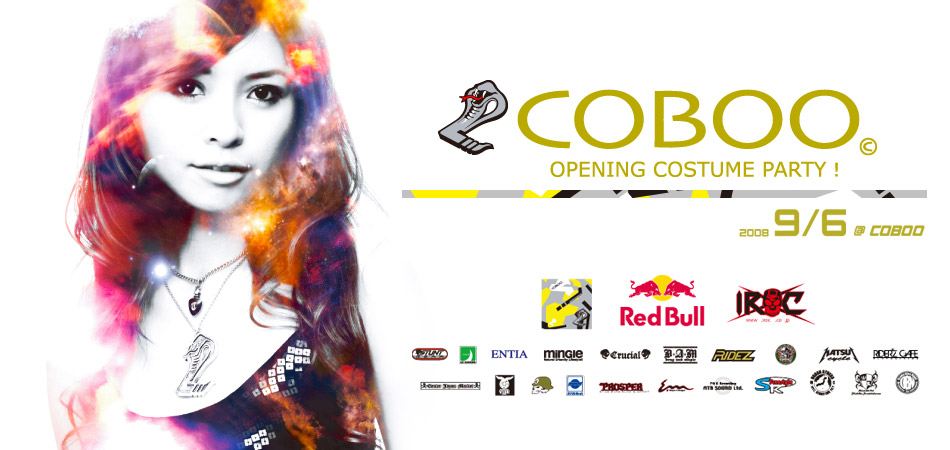 2008年9月6日。 COBOO立ち上げ6年目の秋。 
長い下積みから2005年に名古屋市天白区にSHOP OPENから3年。
いろいろとご縁、ご支援いただきまして、新たに北名古屋市へと移転致しました。
これまで支えていただいた方々、一緒に楽しくやってきた方々に、ご挨拶のの意をもって"オープニングパティー"を開催。
新ファクトリーをクラブ化し、コスチューム(仮装スタイル)パーティーとさせていただきました。
そして、お越しいただいた方には、この日限定のCOBOOコンドームをプレゼント。
皆様のおかげで、大変すばらしい新たな1歩を踏み出すことができました。
ありがとうございました。
こうした遊びを軸に、より魅力ある場所になれば・・・という目標を新たにもってがんばって参ります。
また、皆様と遊べることを願って。
COBOO OPENING COSTUME PARTY
September 6 2008. It has been 6 autumns since Coboo first formed. For 3 years we struggled to build Coboo,
and in 2005 opened our first shop in Tenpaku, Nagoya.
With the right timing and much supportt, we were able to move to a new shop in north Nagoya City.
We held the "opening party" in honor of the people who support us and enjoy working together.
We made it a costume party and turned the new shop into a club.
We gave out special limited COBOO condoms to the party guests.
Thanks to our supporters, we were able to take our first step to a wonderful new future.
Thank you very much.
We have a new goal to make COBBO a more attractive place with more fun ideas like this.
We are hoping to have fun with our supporters again.
https://coboo.jp/wp-content/uploads/2020/12/coboologo.jpg
0
0
coboo
https://coboo.jp/wp-content/uploads/2020/12/coboologo.jpg
coboo
2009-07-01 19:47:26
2009-07-12 20:56:44
COBOO OPENING COSTUME PARTY